Auction Items For Sale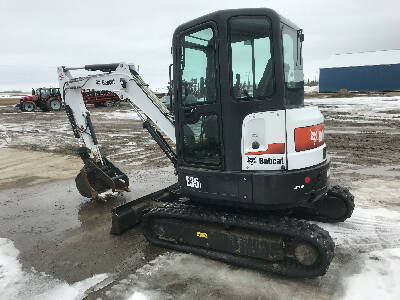 Saturday, April 20, 2019 at 10:00am
We are also currently seeking consignments to include, light construction and excavation equipment, trucks, trailers, vehicles, and all aspects of contractor tools and building supplies. Contact Orr Auctioneers today and let us help you turn your underutilized equipment to cash!
Trucks - Vehicles:       
2005 Chevrolet Kodiak C5500 single axle truck with service body, crane lift, GVW 16,750
2003 Ford F350 1 ton dually with 16 ft. enclosed cargo body, side door storage, AC, 7.3 diesel, automatic, 199k miles
2001 F350 XLT super cab 4x4, 5.4l gas automatic transmission with locking hubs and manual select 4x4, new brake pads and fuel pump heat and A/C work great, has 4:10 rear end with limited slip axle
1995 International 9500 quad axle gravel truck, 16 cubic yard box
Semi-Trailers:
2006 Fontaine 55 ton triple axel detachable low boy trailer, 24 ft. well/deck, new deck boards
1999 Stoughton 53 ft. dry van semi-trailer, spring ride, 102 inch wide
1989 Fontaine 48 ft. step deck spread axle semi-trailer
Trailers:
2012 Felling pintle hitch flatbed trailer, triple axel, folding ramps
2003 Felling tandem axel car trailer/skid-steer trailer
1996 triple axel flatbed gooseneck trailer
Skid Steer tandem axle trailer
Pick up box trailer
Skid steer and Lifts:
2006 Bobcat S150 Skid steer with grapple bucket
2001 JLG Sizzer lift, model 40RTS
1996 JLG Sizzer lift, model 33RTS, non-running
JLG Electric Sizzer lift, works excellent
Telehandler:
Caterpillar TH63 telehandler, working order, smoke damaged boom
Self-Contained Screener:
2001 Nordberg SW348 Self-Contained Screener, 4' x 8' Double Deck, One Owner, Re-sealed Hydraulic Pumps, Hydraulic Dumping Grizzly, Topsoil Shredder, Self-contained Deutz Diesel Engine Rebuilt w/ new pistons & all bearings, timing belt & oil pump.
New Home to be moved:
1,630 sq. ft. 3 bedroom newly constructed by Jamestown vocational center. 9 ft. ceilings, exterior finished, interior partly finished and wired. Located off site, for inspection by appointment contact Orr Auctioneers.
Wheel Loader:
1968 Allis Chalmers 645M wheel loader, 4WD with 2.5 cubic yard multi segment bucket, 15,000 lbs. capacity, military
Unused Skid Steer Attachment:
Lowe Hyd Auger 1650 w/ 12" & 18" w/ skid steer quick attach
Lowe Hyd Auger 750 w/ 9" & 12" w/ skid steer quick attach
Stout Brush Grapple 66-9 w/ skid steer quick attach
Stout Brush Grapple XHD 84-6 w/ skid steer quick attach
Stout Rock Bucket/Brush Grapple Combo HD72-3 Open-End w/ skid steer quick attach
Stout Tree & Post Puller w/ skid steer quick attach
Stout Walk-Through Pallet Forks 48" w/ skid steer quick attach
Stout Add-on Fork Grapple
4-Maxam 12-16.5 Skid Steer Tires 12-ply
3-Redline 5500 lb. walk through pallet forks 48"
2 Redline receiver plates
4 Redline solid weld on qt plates
1 Redline double tine bale spear
1 Redline tree/ post puller- might bring 2 
Redline 72" hd rock bucket
Redline74" dirt bucket
Redline 84" double brush grapple
Redline solid weld on qt plates
Lumber and Building Materials:
Large selections of bundled unused lumber
Large selection  pallets of new shingles
Large selection of new windows
New (large rolls) of carpeting
Nice selection of new cabinetry
Large selection of new Lighting
Misc. doors and windows
Huge selection of new lighting
New pole building tin
New Finished Products:
New 12 ft. x 10 ft. finished shed, Yellow siding, full floor
10 ft. x 8 ft. OSB board shed, shingled, full floor
16 ft. x 12 ft. treated deck
4 ft. x 4 ft. entry steps
New wooden shooting bench
New Dog houses
Trees and Shrubs:
Semi load of potted trees and shrubs
Unused Continuous Cattle Fence Panels:
160 Unused 6 bar galvanized 20 ft. continuous fence panels w/ connectors
Miscellaneous:
Unused wood storage shed w/ full floor
Unused wood entry deck
Honda EV3000 IS, like new generator
Large selection of unused implement tires
Many other misc. items
Many shop tools and wood working equipment expected
You will not be disappointed in the selection of items on this auction!