Auction Items For Sale
We are moving our upcoming Machinery Consignment Auctions to a Online-Timed Auction format.  We will be able to market your equipment in a professional online experience realizing top dollar for our consignors during  COVID19. To register for this auction, you will need to click the Online Bidding Button Above. Credit card will be required for online registration. The Online - Timed Auction for June will open Monday June 15th at 9:00am and lots will close through-out  the day Saturday June 20th - 4pm. If there is more than one person bidding in the last few minutes, the timer will reset for 2 minutes and continue until all bidding is completed. 
We ask that you abide by the guidelines of Alberta Health Services regarding COVID19, and remind you that there are No Food Services at our Site for this Auction. 
All items must be on-site by Sunday June 14th 5:00pm. to be included in this auction.  We are accepting a limited quantity of miscellaneous items (Please call Jody Lindstrand  cell: 780-679-8101 for details).  Inspection & Viewing of Equipment starts on Monday June 15th  Until Saturday June 20th from 9:00am till 5:00pm. We Will allow you to view equipment from the comfort of your vehicle and will monitor the safety of our customers and staff during viewing.
Please call Jody Lindstrand at 780-679-8101 to list your consignments for this auction.
Begins Starts : Monday June 15th, 2020  -   9:00 am
Bidding Begins Closing :  Saturday, June 20, 2020  -  4:00 pm
This is a Partial Listing!  Register to view catalog updated daily! 
Register Now!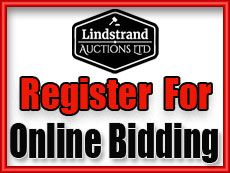 This is a partial listing! Register for Online Bidding  above to view all current lots available for bidding!
TRACTORS
2003 JD 6415 MFWD Tractor - CAHR, 3pth Hitch, c/w JD 640 Loader & Grapple, 5334hrs Showing, Shedded, Dispersal, Nice!
JD 710 2wd Tractor - 540/1000 PTO, 4 Cyl 50hp Diesel
JD 4010 Tractor - c/w Cab, PTO
Massey 88 Tractor -  Dual Speed PTO, Diesel, Newer Tires, c/w Allied Loader
Allis Chalmers B Restored Tractor - Live PTO
IHC B-414 2wd Diesel Utility Tractor - 3pth, Live PTO
2007 JD 3203 MFWD Tractor - c/w Loader & Bucket, 3pth Hitch, Roll Bar, Bale Fork, Weight Box, 2152hr ShowingJD 1830 2wd Tractor - c/w 3pth, Rops Canopy, 2259hrs Showing
1982 JD 4840 2wd Tractor - CAHR, 200hp, PTO, JD 265 Loader Brackets, Hyd Manifold for Loader Connection, Loader & Grapple Joystick Controls, Extra Clean, Rear Tires Near New, Low Hours, 7704 hrs Showing.JD 4430 Tractor - CAHR, 2wd, 5500hrs Showing, Shedded
CASE 2390 2wd Tractor - CAHR, 134hp, 8400hrs Showing, Shedded
IHC 724 2wd Diesel Tractor - c/w 3pth
Kubota M7500 DT MFWD Tractor c/w Loader & Grapple, 3pth, 81hp, Rollbar, New Starter, 4560hrs ShowingAllis Chalmers 7060 2wd Tractor - Cab
CASE 830 Tractor c/w CASE Loader
 JD 4230 Tractor
JD 4020 2wd Tractor
Ford 9600 Tractor - Cab, c/w Leon 707 Loader
IHC 710 2wd Tractor - 3pth, Dual PTO, 3900hrs Showing, New Clutch, c/w Loader
IHC 100 Tractor Orchard - New Paint, 3pth, c/w Cultivator & Plow, Motor Not Running
Cockshutt 1250 2wd Tractor - 3pth
CASE 830 Tractor
SEEDING & TILLAGE & SPRAYING
2' Farmking 1275 Tandem Offset Disc
35' COOP 807 Chisel Plow c/w 3 Bar Harrows
1996 Spray Coupe 3640 Sprayer - 80' Booms, Perkins Diesel Engine, 300gal Tank, 5 spd Manual Trans, Wired for JD GPS, 2976hrs Showing
New 6' 3pth Disc
New 8' 3pth DiscNew 14' Offset Disc
20' Allis Chalmers Vibrashank Cultivator c/w 3-Bar Harrows
40' Blanchard Coil Packer Bar 
Morris 45' Coil Wing Up Packer Bar
10' Krause Cultivator
20' White 253 Wing Up Tandem Field Disc
40' Vaderstad DT Cultivator c/w 4-Bar Harrows
22' Kongskilde Field Cultivator - Walking Beam Axles c/w 3 Bar Mounted Harrows
60' Farmking Hyd Harrow Drawbar
2006 90' Brandt 4000 Hi Clearance Sprayer - c/w New Raven Control
2002 Brandt 1000 Quick Fold Weed Sprayer - Triple Nozzle, 80' Booms, Wind Cones, End Valves, T Jett 844 Controller, Recent Service Field Ready.
60' COOP Hyd Harrow Drawbar
Degelman 7640 40' Land Roller
8' 3pth Cultivator
60' Flexicoil Harrow Drawbar
HAYING EQUIPMENT
12' NH 499 Hydroswing Haybine
5-Wheel Vicon Hay Rake
NH 273 Square Baler c/w Hyd Tension
NH 1033 Bale Wagon
12' Gehl 2230 Haybine
Hesston 5800 Round Baler
NH 276 Square BalerVicon Side Delivery Rake
JD 566 Round Baler - Shedded, Twine Wrap, 10000 bales
Enorossi Harvest Man 12 Wheel V Rake
JD 510 Round Baler
12' JD 830 SP Haybine
JD 567 Round Baler - Twine Wrap, New Chains, Pickup Teeth, Field Ready, Shedded, 10,000 Bales
CASE IH 8460 Round Baler
New Idea 12' Hydroswing Haybine
16' NH 1475 Hydroswing Haybine
14' NH 1431 Hydroswing Discbine
JD 336 Square Baler
NH 1032 Bale Wagon
NH 851 Round Baler
New Idea 486 Round Baler
16' JD 1600 Hydroswing Haybine
Hesston 565T Round Baler c/w Gathering Wheels
2007 NH BR780A Round Baler - Auto Wrap, Hyd Pickup Lift, Net Wrap or Twine, Wide Pickup, (Bale Count 15503 Bales)
HARVEST EQUIPMENT
JD 914 Pickup Header - Single Point to fit 6070 Series Combine
JD 7720 SP Turbo Combine - 2180 Engine Hrs, Shedded, Field Ready
Westfield 10 x 50 Swing Auger
18' JD 800 Swather
36' Honeybee Straight Cut Header - Claas Lexion 6/700 Adapter, Header Height Control, New Raptor Canvas, Less Than 5000 Acres
Hutchinson 1500 Rotary Grain Cleaner
18' MF 775 SP Swather
Farmking 10 x 50 Hydraulic Swing Auger c/w Extension Spout
28' Straight Cut Header Mover
2010 Honeybee 36' Draper Header to fit Claas Lexion 700 Series Combine - c/w New Canvasses, Header Height Control, Hyd Tilt, Low Acres
16' Westward Hyd Drill Fill New
 
SKIDSTEERS, FORKLIFTS & INDUSTRIAL
Toyota 3000lb Propane Fork Lift
Post Tree Puller Skidsteer Attachments
HLA 3700lb Skidsteer Quick Attach Pallet Forks
Skid steer Attach to Move Trailers
Asst of New Skidsteer Buckets
7' Bobcat Brand Skidsteer Bucket
Bobcat Brand Ice Breaker Attachment
2004 590 Super M Extend A Hoe Series II 4wd Backhoe - Cummins Diesel, Auxiliary Hyd, 3615 hrs Showing
Gehl 8048 8000lb Telehandler - Approx 4000hrs showing
OTHER EQUIPMENT
3pth 8' Rear Angle Blade
8' - 12' New Hyd Angle Scrapers
New 14' Land Scraper - Hyd Angle Tilt
New 8' Rotary Mower - 3pth
Mateng 5' 3pth Rough Cut Mower
Hyd Post Pounder
Hi Line 7000 Bale Processor
Pallet Forks
New 10' 3pth Rotary Mower
New 12' 3pth Rotary Mower
10' Brillion Grass Seeder
42" Landpride 3pth Rotary Mower
JD Frontier 3pth Rotary Mower
JD Frontier 3pth 60" Box Scraper
Custom Made High Clearance Sprayer Trailer
V Ditcher
Versa 4300 High Pressure Washer on Skid c/w 18hp Briggs & Straton Motor - 600 gal Poly Tank & Wash Wand
MQ Power 70 kva Generator on Trailer
Qty 4 380/90R46 Sprayer Tires c/w Rims to Fit Rogator
Linden Trail Type Hydraulic Post Pounder
5' Woods 3pth Rotary Mower
NH 358 Mixer Mill
Hutchinson Model 1500 Grain Cleaner
Jib Crane - c/w 1/4 Ton Electric Hoist & Trolley
Hesston BP220 Bale Processor
3pth 6' Landscape Rake
Kodiak 8' 3pth Rotary Mower
 
BINS, BUILDINGS & LIVESTOCK EQUIPMENT
2016 Custom Built 10 x 10 Playhouse - c/w Loft, Fully Finished, Nice!
20' Sea Can
8 x 12 New Garden Shed
Qty of New 24' Steel/Wood Wind Breaks
Qty of 24' 5 & 6 Bar Steel Free Standing Livestock Panels
Qty of 24' 5 Bar HD Steel Buffalo Panels
Qty of New 10', 12', 14' Steel Gate Panels
Qty of New Steel Feed Bunks
10 x 24 Self Contained Office/Living Tandem Trailer
12000 Bushel Twister Grain Storage Rings - 4' x 50' c/w Tarps & Hardware
Qty 25 24' Free Standing 7-Bar Panels
Round Bale Feeders
Qty 3 Large Rubber Water Tubs
12' Steel Gates
UFA 10' Feed Bunk3 - New Wood Playhouses
Qty 2 Steel Shipping Crates 5' x 20'
 
CARS, TRUCKS, TRAILERS, MOTORCYCLES
2006 Canadian Hauler 26' Tandem Enclosed Trailer
2004 Freightliner M2 Business Class Hwy Truck - 6spd CAT Diesel, Air Ride, c/w Tool Boxes, Fossi 1-Ton Picker
2013 Dodge Journey 2wd SUV - V6 Auto, 82000km Showing
2009 Ford Taurus AWD Sedan - Leather Seats, Sunroof, Loaded!
1994 Chev 2500 Ext Cab 4wd Dually Truck - Gas Auto
2013 Ford Flex AWD SEL SUV - Leather, Sunroof, New Tires, Loaded!, 248000km Showing!
2004 Dodge 3500 Ext Cab 4wd Long Box Truck - 24 Valve Cummins Diesel, Auto, New Trans, New Work Order Available, 349000km Showing
2010 Buick Enclave AWD SUV - Full Load, Leather, Sunroof, 204000km Showing
2007 Mirage Extreme Snow 24' Triple Axle Enclosed Sled Trailer - Front Ramps, Rear Fold Down Door, c/w Tools, Lockers, Bolt Bins, New Tires
1997 Doepker Grain Trailers c/  2 Year Old Tarps (Lead & Pup)
2010 Trail Tech 16' Tandem Car Hauler
2013 Sure Trac 30' Triple Axle Gooseneck Trailer
2006 20' Tandem HD Trailer - c/w 6' Beaver Tails, Spring Suspension, Oil Bath Hubs, Pintle Hitch, Used for Hauling Bobcat
2008 GMC Acadia AWD SUV - Full Load, Leather, DVD, One Owner, Lady Driven, Non Smoking 120000km Showing, Recent Vehicle Inspection
2011 Wilson Grain Trailer c/w Ft Converter, Roll Tarp, (Farm Use ONLY)1980 Ford LN800 Tandem Grain Truck - c/w 19' Steel Box & Hoist, 429 Gas, 13spd Trans
2008 IHC Pro Star Mid Roof Hwy Tractor - Cummins 500 hp, 18spd Eaton Fuller Trans, 4 Way Lockers, 46000lb Rear End, 56" Sleeper, 530000km Showing, 10000hrs
2004 Ford F550 Crew Cab Service Truck - 6L Powerstroke Diesel, Auto Trans, Air, Reese Trailer Brake, New Batteries, c/w Falcon Service Body, 294000km Showing
2010 Chev S10 Ext Cab 4wd Truck - V6 Auto
2005 Jeep Liberty Ltd - 4wd, 174000km, Full Load
2013 53' Transcript Tridem Dually Step Deck Trailer - Air Ride - Rubber Mats on Deck, Aluminum Tool Boxes, Approx 5000km, Nice!
1980 18' Tandem BP Stock Trailer
2005 Nissan Titan 4wd Ext Cab Truck 
2007 14' Tandem Stock Trailer
2003 Chev Trailblazer 4wd SUV
1989 Bronco II 4wd - Full Load, Auto, 123000km Showing
2001 Kawasaki ZX6 600cc Sport Bike - 39674km Showing, New Tires, Runs (Transmission Issues)
2006 Pontiac Pursuit 2 Door Coupe - V6 Standard
2009 IHC 4300 Single Axle Cab/Chassis Truck - Max Force DT Diesel Engine, Allison Auto Trans, 53900km Showing, 6020hrs, 183" Wheel Base, CVIP Till October 2020, Maintenance Records Available, Nice! (City of Camrose)
1999 Toyota Corolla 4 Door 4 Cyl Car
2006 Grand Prix 4 Door Car
1999 Goertzen 16' 5th Wheel BP Stock Trailer
CAT M26 6-Wheel Articulating Dump Truck
1998 Doepker Triaxle Grain Trailer 
2002 International Eagle 9900 Hiway Tractor - CAT Diesel, 475 hp, Totally Rebuilt ($29,000 Work Order Available)
2010 Mirage 14' Tandem Enclosed Cargo Trailer
1977 Chev C60 Grain Truck c/w 12' Box & Hoist
2016 Suretrac 12' HD Dump Trailer - 6000lb Axles, c/w Spare & Tarp
2001 16' Tandem Bergen BP Stock Trailer
2007 Dodge Ram ST 3500 4wd Reg Cab Truck - 6.7 Turbo Cummins Diesel, 6spd Standard, Jake Brake, c/w 11.5 x 8' Deck, 5th Wheel, 430 Tidy Tank c/w Pump, 73700 km Showing, Nice!
2013 PJ 30' Gooseneck Tandem Flatdeck Trailer  c/w Beaver Tails - 10,000lb Tandem Axles, Spare Tire
2015 Trailtech 20' Tandem Equipment Trailer c/w Ramps- 7000lb Axles
2004 24' Tandem Enclosed Trailer c/w
2009 Dodge Caravan
2008 Toyota Tundra SR5 4wd Truck - Full Load Dual Cab, 175000 miles Showing
2003 Dodge 4wd Crew Cab 2500 Diesel Truck
2010 Dodge Ram Laramie 1500 4wd Crew Cab Truck
1968 Delta Olds Custom 2-Door Hard Top Car
1976 Ford F 750 Tandem Tag Axle Grain Truck - c/w 20' Wood Box, 25,328 Miles Showing
2009 12' Enclosed Cargo Trailer
18' Flatdeck Trailer c/w Beaver Tails
2000 Honda CRV Station Wagon
1995 Knight Tow Dolly c/w Lights & Straps
2007 Dodge Dakota SLT 4wd Quad Cab - New Brakes, 204000km Showing
2003 Dodge Ram 1500 4wd Quad Cab Truck c/w 5th Wheel & Rails, 257000km Showing
1985 Wylee 18' Tandem Stock Trailer
1995 Knight Tow Dolly c/w Lights & Straps
2015 Mirage 16' Tandem Enclosed Trailer
(5) 2005 Maniac 53' Hiboy Trailers (Hwy 13 Transport)
2000 White Western Star 4654 Conventional Daycab Tandem Hwy Tractor - Certified
2003 Ford F150 King Ranch 4wd Ext Cab Truck - Leather, Sunroof
2000 Western Star Conventional Day Cab Hwy Tractor - 60 Series Detroit 16spd
1986 Ford Mustang Convertible Car
2004 2-Place Sled Trailer
1994 Chev 4wd Dually Ext Cab Truck
1998 Che v 3500 Dually 4wd Diesel Truck
2005 Pontiac Sunfire Car
2000 Ford F250 Lariat Supercab 2wd Truck - 7.3L Powerstroke Diesel, Full Load, Cloth, Shedded, Nice! 132660km Showing!
2005 GMC Envoy SUV - Full Load
LAWN & GARDEN / RECREATIONAL & RV'S
1998 Arctic CAT 600 Skidoo
2006 Puma 30' 5th Wheel Holiday Trailer c/w Slide
2006 Jayco 27' 5th Wheel Holiday Trailer c/w Large Slide
Poulin 14.5hp Ride on Mower c/w Bagger
(4) Push Mowers c/w Rear Baggers
(2) Walk Behind 5hp Rototillers
Husqvarna 8hp Rear Tine Rototiller
Troybilt 7hp Walk Behind Weed Eater
Dixon Zero Turn Ride on Mower
STX38 Ride on Mower c/w Rear Bagger
JD 525 Ft Mt Mower
2004 Fleetwood 29' 5th Wheel Holiday Trailer - 3 Slides
1979 Vanguard 23' Class C Motorhome 
1980 16' Lund Ski Boat - c/w 90hp Mercury Outboard Motor & Trailer
1994 Terry 25.5' 5th Wheel Holiday Trailer
1986 Harley Davidson FSXT Softail Motorcycle - Shufflehead, 1143cc, New Motor 10000 km ago, Work orders Available, Baker 5spd, SS Carb
2007 Terry 25' BP Holiday Trailer - c/w Large Slide
2003 Bombardier 2wd Quad
2012 7600DF Smithco Sweep Star 60 SP Grass Sweeper - c/w 2cyl 31hp Kohler Gas Engine, 1150hrs, Maintenance records available, (City of Camrose)
1999 Vanguard Legend 24' 5th Wheel Holiday Trailer - New Bearings-Tires- Suspension Work in 2017
2003 Crossroads 26' Hard Wall BP Holiday Trailer c/w  Slide
2006 Keystone 26' BP Holiday Trailer - c/w lg Slide
2002 Honda CRF 100 Dirt Bike
BCS Walk Behind SP 8hp Mower - c/w 36" Ft Mt Mower & Sweeper Attachment
2008 Jayco Jayfeather Model 197 20' BP Travel Trailer - New Battery, Hitch & Sway bars Included, Nice!
2012 Coachman Catalina 26' BP Holiday Trailer - Santana Series, c/w 1 Lg Slide, Used 8 Times! Non Smoking, No Pets, Mint!
JD 265 Lawn Tractor
Kubota 2100 Diesel 4wd Garden Tractor/Mower
14' Travelair Holiday Trailer
2001 Yamaha Golf Cart
1987 Regal 21' Ski Boat - 130hp Outboard Motor c/w Trailer
JD 317 Ride on Mower
JD Lawn Sweep
2005 Forest River Sierra 37' 5th Wheel Holiday Trailer c/w 2 Slides
JD 930 Ft Mt Diesel Ride on Mower
Lund 12' Fishing Boat - c/w 15hp Evinrude Outboard Motor & Trailer
JD F725 Ft Mt Mower
2006 Kawasaki Brute Force 650 4wd Quad - Snorkle, Skid Plate, Winch, 4492km Showing
Cub Cadet 1620 Hydro 16hp Ride on Mower
Craftsman 13hp Zero Turn Mower c/w Bagger
1995 Salem 23.5' 5th Wheel Holiday Trailer
Swisher 17hp Pull Behind 52" Rough Cut Mower c/w Electric Start Motor - Nice!
Quadivator Pull Behind Cultivator
1997 Polaris 425 Magnum 6 x 6 ATV - c/w 12v Sprayer, 12' Booms & Snow Blade
JD F725 Front Mt Ride on Mower - Gas
JD F930 Diesel Front Mt Ride on Mower
2000 Frontier Model W215SL 25'  5th Wheel Holiday Trailer - c/w Slide, New Batteries, Shedded, Nice!
2005 Jayco Eagle 28' 5th Wheel Holiday Trailer c/w Slide
MISCELLANOUS & SHOP EQUIPMENT
Qty 400 - 2 3/8 31' Steel Pipe, Qty of 4.5" Yellow Jacket Steel Pipe, Qty of 9 5/8" Steel Pipe, Qty of 4.5" Steel Posts 17'-20', Qty of 14' Steel I-Beam, Qty of Steel Square Tubing

(2) New HD HD Axles for Grain Cart, 3" Water Pump, 2017 Beachcomber 8-Person Hot Tub c/w Pump, 6-Person Hot Tub, Qty of Wood Patio Furniture, Honda Industrial Cement Power Trowel

Qty of Solid Oak Dunnage from Steel Mill, Qty Sets of Passenger Tires & Wheels from Tire Store, (10) 4' x 6' Solid Wood Panels, Qty of Hilti Guns,  Pallet forks, Trailer Hitches

(2) New Truck Decks to fit F-350 to F550 Ford Trucks c/w 5th Wheel Hook Up, Dremel Tool, Milwaukee 12v Cordless Drill, 10" Mastercraft Table Saw, 10" Delta Table Saw, Proline AC/DC Welder, 2010 GMC 1/2 Ton Grill

(6) New Sheets Tung/Groove OSB Plywood, Qty of 2 x 4 x 16 Lumber, (2) 4 x 6 x 16 Treated Wood Skids, Stihl 025 Gas Chainsaw, 5hp Honda Engine, New 8" Bench Grinder

Beam Scale, Home Made Drag, 1/2 Ton Chain Hoist, Load Binders, Gooseneck Trailer Hitches, Aluminum Ladders, Rubber Vehicle Ramps, Set of New Worklights, Set of GMC Truck Mirrors

Comp-air Auto Power Commercial Air Compressor, Target Floor Saw, MK Tile Saw, Portable Radiator Heater, 2 Pneumatic Jack Hammers, 220v/40a Electric Heater, Hilti TE 3000 Gun, Hilti Lazer PR26 Level, Husqvarna K3000 Cut & Break Saw, Table Saw, Air Compressor, (2) Hot Tubs, Gopher - Inator, 

2001 Hoffman Monty Tire Machine, New Tow Straps Qty 2 (6" x 50' 100000lbs)  Qty 4 ( 8' x 50' 130000lbs)  Qty 4 ( 10" x 50' 160000lbs)  Qty 4 (12' x 50' 200000lbs) Qty 1 ( 12' x 30' 200000lbs), VMAC Under Hood Screw Type Air Compressor (Rebuilt), Chelsea PTO c/w Tandem Drive Hyd Pumps, New Hyd Pump

2017 Lincoln Electric 305G EFI Welder - c/w 200' of Remote Cable & Remote,(32hrs Showing), (6) 20.8 x 38 Tractor Tires, 400L Skid Tank c/w Pump, 400L Skid Tank(No Pump), 200L Skid Tank c/w Dual Action Pump/Hose & Auto Shutoff Nozzle, Asst Fire Extinguishers, Coleman Pressure Washer, 

Halogen Work Lights, Welding Helmets, Ratchet Straps, Booster Cables, Acetylene Cutting Torch c/w Gauges & Hose, Westfield Swing Auger PTO Shaft, Several Boxes of New Drive Chain, New Coop 722 Swather A/C Compressor Clutch, Swather Knives & Guards , 3 New 4x6 Play Houses, Diesel Fired Hotsy Unit, Incinerator, 200 gal Water Tank on Skid c/w Engine & Hose Reel,  Screw Compressor c/w Kohler engine

Macdon Pickup Teeth, Bearings & Bushings, JD 8820 & JD 9760 New Combine Parts, New JD 230 Disc Parts, New IHC 7200 Hoe Drill Parts, Asst of 23.1 x 30 8-Ply Tractor Tires c/w Rims, Gas Driven Walk Behind Line Painter(City of Camrose)

New Inflatable 4-Person 1000 Litre Aqua Spa c/w 1200w Heater, New Inflatable 2-Person 800 Litre Aqua Spa c/w 1200w Heater, (2) 20.8 x 38 Ranger 8 Ply Tires c/w Rims for a CASE 2290 Tractor, (4) Goodyear Powertorque 23.1 x 30 8-Ply Tires on Rims for CASE 4490 Tractor, (4) New Grizzly 35 x 12.5R 20 LT 10-Ply Mud & Snow Tires, 300 gal Fuel Tank c/w Hose, Wood Chipper, New Magnakist High Pressure Pump

Large Asst of Police Recovery Bicycles,  New Powertech 3500lb 12v Electric Boat Winch c/w Remote, New Powertech 3000lb 12v Electric ATV Winch c/w Remote, Challenger tool Box, 5th Wheel Hitch, (3) Easy Kleen Magnum 4000 Gold Gas Driven Elect Start Pressure Washers (New),

True Upright Cooler (Open Front) 22v 15 amp(6'Tall, 4' Wide),  21" x 48" Cambro Dunnage, New Qty (4) 2" 300' Lay Flat Discharge Hose, New Qty (4) 3" Lay Flat Discharge Hose, New Qty (2) Powertech 18v Grease Gun c/w Battery & Charger, New Qty (2) Powertech 20 Ton Air Over Hydraulic Bottle Jack,  New 13000lb 12v Electric Truck Winch c/w Remote

New PowerTech 3.5kw Silent Inverter Generator, Qty (4)New Powertech 6.5hp Gas Water Pump, Qty (2) New Rotary Lazer Level c/w Remote & Detector (Slope Range 10%), New Qty 3) New Mig 100 (100amp) Wire Feed Welder(Flux Core & Stick), New Qty (2) 200 amp Inverter Welders, New Qty (2) 40 Amp Inverter Plazma Cutters

Qty 8 New 17.5R25 Industrial Tires, Qty 2 Large Steel Shipping Crates, Hi Jacker 16000lb 5th Wheel Hitch c/w Rails & Bolts, New 11' Drywall Hoist, 

Fence Posts, Well Pump, Qty 12 Bin Anchors, Deer Blind, Set of 4 Steel Wheels for JD Model D, Antique Steel Wheels, Metal Shelving Units,

(8) 17.5 x 25 16 Ply Loader Tires (new), Qty of Galvanized Grating, Bottle Cart, Acetylene Hose, Pallet of Elect. Motors, Coleman 5500w Generator,

Solid State Outboard Motor, Truck Box Utility Trailer, 4 Wheel ATV Cart, (30) Plastic Rain Barrels,  18.4 x 38 Duals on Rims,

Wind Power Power Takeoff,  2 Phase 25kw Generator, Pile of 15' Insulated Pipe, Pallets of Flat Steel & Aluminum, 30' Galvanized Flag Pole c/w Lanyard & 4' Cement Base,

(14) New Galvanized Window Wells

Antique Oval Double Sided Porcelain Esso Sign